With so many different exhaust systems, part, pieces, sizes, sounds, out on the market. How do you know what to buy, and what will sound good, or add some power?
Well I did some reasearch on the web. There are many great forums to ask questions, and get feedback from on all different types of topics. As well as pages with muffler, and exhaust sounds on multiple different vehicles. After getting the info I wanted, I decided to go with a Dynomax Super Turbo muffler. I've heard that it's best with the 4.7L to stick with the 2 1/2" exhaust, unless you've done many other things to your engine that I just won't be able to do.


I priced some mufflers around town, then went to the internet. I got it at about half the price from Summit, $45 with shipping. I also decided that I wanted to put a nice tip on the exhaust, so I did some more shopping. $12 for a 12" x 4" chrome tip.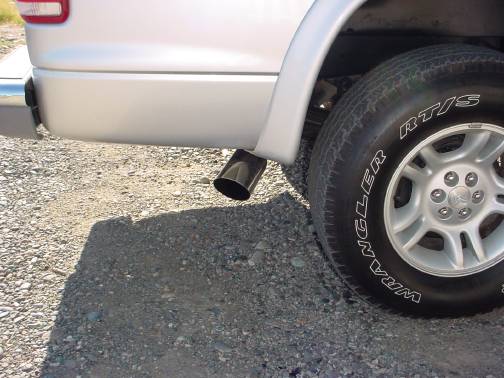 So I figure I'll save even more money and install it all myself. Well, after spending some time under my truck, I decided to let someone else do it(I want it to be done right).
There is a great muffler shop here in town that has done some previous work for me, so I went there. $45, and 20 minutes later it was all done, and welded.
There isn't a HUGE difference in sound, but there is a definite noticeable rumble. All in all, I pleased with the exhaust, the tip looks great out the back, and the price was good too.




Back Home